Conference Welcome.....
ASEE SE President – Shelton Houston
Welcome to the 2007 ASEE Southeastern Section Meeting. This year's conference theme is centered on Advancing Scholarship in Engineering Education: Lessons Learned From a Year of Dialogue . The Keynote address by Gerald Jakubowski, ABET-EAC Chair, will set the tone for the conference. Workshops in Fostering Student Engagement in Technical Courses Using Tablet PCs and DyKnow Software and High Performance Learning Environment (Hi-PeLE) as well as a campus tour of the Belknap Research Center Clean Room will be of interest to everyone.
I want to express my thanks to the Site Committee at the University of Louisville for hosting this meeting. I especially want to welcome members from the Illinois/Indiana and North Central sections who are joining us this year. I also want to welcome our students who may be considering a future in engineering education.
I also want to thank all of the officers who have worked on the technical program, participated in the peer-review of manuscripts, coordinated workshops, organized the student poster session, prepared the conference CD-ROM, or will moderate a technical session. Without your efforts, this conference would not be possible. This meeting will offer something useful for anyone interested in engineering education.
Enjoy the conference and your time in Louisville . I look forward to meeting everyone as we come together to discuss current issues in engineering education.
Shelton Houston, Ph.D.
University of Southern Mississippi
ASEE SE President
2007 ASEE SE Conference Site Welcome
<![if !vml]>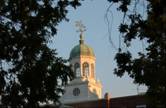 <![endif]>
March 7, 2007
Dear Engineering and Engineering Technology Colleagues:
As host Dean for the 2007 annual meeting of the Southeast Section of ASEE, I am pleased to welcome you to Metro Louisville and the University of Louisville . This meeting is the second time in the past twenty years (last meeting in Louisville was in 1988) that our institution has hosted this regional meeting. I know that those of you who attended the last time around will be pleased to see the continuing progress of our university as we prepare engineering graduates for the future.
The theme of the conference, " Advancing Scholarship in Engineering Education: Lessons Learned from a Year of Dialog , " continues the year long dialog that is taking place in various ASEE constituent groups nationwide. It is anticipated that this conference will address some of the significant engineering education scholarship issues which face our profession currently. Of course, the highlights of the meeting will be a presentation by our ASEE national President-Elect , Dr. Jim Melsa, Dean Emeritus, Iowa State University and the keynote address by Dr. Jerry Jakubowski, President of Rose-Hulman Institute of Technology and Chair, Engineering Accreditation Commission of ABET, Inc.
I am proud of the participation and leadership of our faculty in ASEE and in their respective professional societies. I am equally proud of our engineering facilities at the University of Louisville , and I invite you to visit our campus during your visit to Louisville . I look forward to participating with you at the conference.
The conference committee and the representatives of the University stand ready to assist in any way that will make the conference more meaningful for you. I know that you will benefit from attending, as well as, enjoying the opportunity to meet both new and old friends.
Sincerely,
Mickey R. Wilhelm, Dean
J. B. Speed School of Engineering