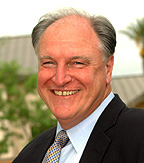 Conference Keynote Speaker
JERRY JAKUBOWSKI
President, Rose-Hulman Institute of Technology
ABET-EAC Chair
Jakubowski came to Rose-Hulman from Arizona State University where he served as vice president and provost at the ASU Polytechnic campus. While there he was responsible for leading the transition of the former Arizona State University East campus in Mesa into a premier polytechnic institution. Among the 30 programs offered to the 5,000 students on the campus are bachelor's degrees in science and engineering along with master's degrees in computing studies and technology.
Prior to his appointment at Arizona State , he served 14 years as Dean of the College of Science and Engineering and professor of mechanical engineering at Loyola Marymount University (LMU), a private institution in Los Angeles , Calif. During his tenure at LMU, the academic quality and diversity of incoming freshmen increased. He was involved in university-wide, major capital fundraising campaigns that raised $19 million for a new science and engineering building, created funding for significant renovations to other facilities in the college and raised support to create endowed faculty chairs. Before becoming dean at Loyola Marymount, Jakubowski was interim dean of engineering, associate dean of engineering and professor of engineering in the Herff College of Engineering at Memphis State University . Prior to that position, he was assistant dean of engineering and associate professor of mechanical engineering at the University of Toledo . He also served as a faculty member at the University of South Alabama .
A native of Toledo , Ohio , Jakubowski earned the Ph.D. in engineering science and the master's and bachelor's degrees in mechanical engineering from the University of Toledo . His areas of engineering expertise include thermodynamics, fluid mechanics, heat transfer and energy. He is a registered professional engineer. Jakubowski has been involved in engineering education developments on a national basis. He currently is chair of policy for the Engineering Accreditation Commission of the Accreditation Board for Engineering and Technology. ABET is the recognized accrediting agency for college and university programs in applied science, computing, engineering and technology in the United States .
In 2001, he served as national president of the American Society for Engineering Education after serving as vice president and a member of its Board of Directors. The organization consists of 12,000 members committed to developing policies and programs that enhance opportunities for faculty. It also strives to increase student interest in pursuing a degree in engineering. He has served in many leadership positions in the American Society of Mechanical Engineers and the Society of Automotive Engineers. Jakubowski has received numerous honors. He was elected as a Fellow in the Institute for the Advancement of Engineering, the American Society for Engineering Education, and the American Society of Mechanical Engineers in 1994, 1999 and 2001 respectively. He received the Excellence in Engineering Education Award from the Society of Automotive Engineers in 1998. He has served twice as a NASA Faculty Fellow, and received honors for his teaching from the Society of Automotive Engineers and the University of Toledo.